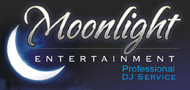 Moonlight Entertainment DJ Service is available for all occasions – weddings, receptions, birthday parties, proms and corporate and charity events, just to name a few. No event is too big or too small to celebrate.
They are an experience husband and wife team from Victoria, Texas Who love to D.J.. They own new state-of-the-art Peavey equipment and have one of the best light shows available in the area. With a wide variety of music, they know how to "read" people and keep them dancing and entertained.
Karaoke is also available with a large selection of music from oldies to the most recent releases.
When celebrating weddings, they are happy to share their expertise with the bride and groom, with everything from song selection to coordinating the events of the evening.
At Moonlight Entertainment DJ Service, their goal is to play music to your specifications and ensure a wonderful, memorable celebration!
Gallery
Moonlight Entertainment DJ Service

,