4 easy steps to getting your marriage license
Congratulations, you're getting married!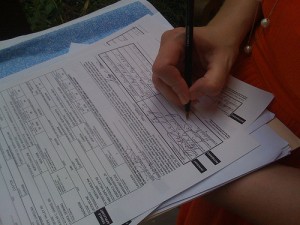 If you're like most brides, you've bought a wedding planner organizer that is complete with a check-off list that tells you exactly what you need to do before the day your wedding. You've booked the caterer, had your dress altered, tasted cake and now you've arrived at the "get your marriage license" step.
So how do you go about getting a marriage license?
Step 1 – Make sure you are getting married within 30 days of applying for your marriage license, but also 72 hours before the ceremony occurs. ***
Step 2 – Apply for the marriage license in person at a county clerk's office. Make sure to bring your fiancé with you, and make sure that you both have your driver's license and social security card. Also, bring $72 in cash for the license fee.
Step 3 – Complete the application and sign it in front of the county clerk.
Step 4 – Pay the license fee ($72) and cross this step off your list.
***There must be at least 72 hours between the date and time of issuance of a license and the time the ceremony occurs. Exceptions are given if one applicant is on active duty in the military or if a waiver is granted. In Texas, your marriage license is valid for 30 days. If you take into account the 72-hour waiting period, there is only a 27-day period in which the wedding ceremony can take place.